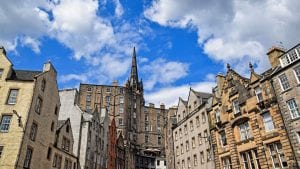 As a city full to the brim with fascinating history and heritage, is it any wonder that Edinburgh's relationship with the big screen has become a major drawing point for tourists around the world?
In recent years a number of Edinburgh's well known locales have featured in TV shows and movies alike. This has been to both the pleasure of local citizens and the interest of potential holidaymakers overseas.
Perhaps the most recent example is that of Marvel's latest blockbuster: Avengers Infinity War. This particular film sees a number of Hollywood's finest battling across the Royal Mile and even into (an uncharacteristically quiet) Waverly Station.
The Royal Mile, is no stranger to such screen time as it appears in movies such as the history rife, Burke and Hare and season 3 of the ever popular TV series, Outlander.
Of course at the end of the Royal Mile lies the world renowned Edinburgh Castle. This particular landmark can be seen in James McAvoy's comedy/drama Filth, which also features Victoria Street and the Grassmarket. Unsurprising considering their atmosphere and the unique view of the Castle on offer.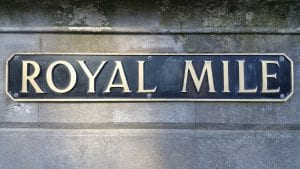 The Grassmarket is also used in another of Irvine Welsh's book adaptations, Trainspotting 2, during a chase scene. Fans of the series may remember another on-foot pursuit from the original Trainspotting. In this scene Ewan McGregor's character evades capture from the police by running down another tourist hotspot, Princes Street.
Those of us who prefer romance to action may better recognise areas such Calton Hill and Arthur's Seat. That is because they set they provide the backdrop for the Anne Hathaway movie, One Day. Set primarily in Edinburgh, this film features a number of the city's finest locations throughout the city.
Fans of superstar Tom Hanks have plenty to explore as his films The Da Vinci Code and Cloud Atlas have featured a number of landmarks in the capital including; Rosslyn Chapel, the Scott Monument and the City Chambers.
Future Films include…. 
With several other Scottish inspired blockbusters on the horizon such as Mary, Queen of Scots and Robert the Bruce, it is likely that Edinburgh will continue to thrive on the big screen and with so many beautiful landscapes and historic landmarks only a stone's throw from one another, who can blame directors for choosing Scotland's capital to be the backdrop of their productions?
Those interested in following in the footsteps of their favourite characters are, therefore, spoiled for choice as there are a number of tours available that not only showcase these movie locations but also the city's vast and exciting history. Just don't forget to bring your camera!
Want to see Edinburgh's key movie locations? We recommend….
If you're looking for a novel way to see the key movie locations whilst doing some sightseeing, why not consider the new Movie Tour by Silent Disco Tours? It sets off just outside The Knight's Vault in Edinburgh's Grassmarket and is great fun for everyone www.silent-disco-tours.co.uk